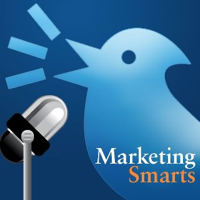 Business Management & Marketing
{"_":"Andy Crestodina of Orbit Media shares tips from his upcoming B2B Marketing Forum presentation on influencer marketing and SEO, and opens up about how he gives 100 talks a year, runs a business, and keeps his book up to date.","em":["Content Ch...

Show More
Strategist Matt Desmier shares tips for agencies, brands, and organizations on how to clarify their positioning, messaging, and branding.
Get the best podcast recommendations in your inbox every week. 😎
Rani Mani, head of social influencer enablement at software giant Adobe, shares the mindset, approaches, and tactics that make the Adobe Insiders program successful.
Top LinkedIn video creator and keynote speaker Goldie Chan shares the secrets of her success in content creation, personal branding, and influencer marketing.
Konstanze Alex, Dell's director B2B influencer relations and content co-creation, offers insights from the company's success using influencer marketing for B2B.
Show More