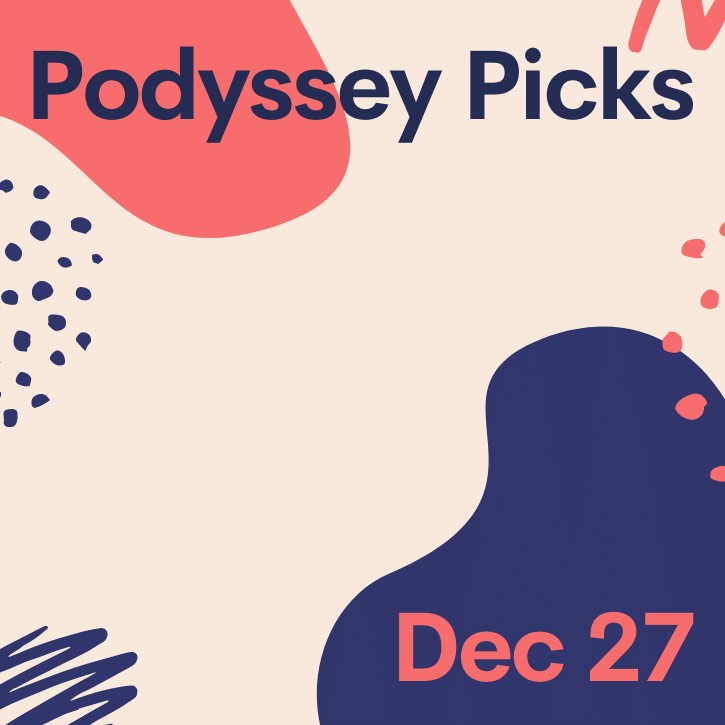 Podyssey Picks
Podyssey Picks (Dec 27): Top Community Recommendations
Curated by:
kerj
Here's this week's roundup of top podcasts and playlist recommendations from the Podyssey community. From a playlist to ring you into the new year to why laughter is the best medicine, you'll have lots of great pods to take you into 2021. Also, we want to highlight our podcast partner this week, Scary Time, a podcast where each episode features a different independent podcast creator. Turn on your night light because it's time for the scariest stories, history, and conversations ever heard.
Is race a social construct or a biological fact?
Find out the origins of "Ok Boomer".
fiercefab recommended:Nov 26th, 2019
A good-humoured episode that builds up to some timeless wisdom. "Young people become old people. Old people used to be young people. We should have some empathy and realize that there's a developmental trajectory to being a human. Sometimes, when you're yelling at the past or at the future, you'r...Show More
Ok boomer
by Today, Explained
Ring in the new year with this New Years Eve playlist.
The New York Times was conned by a wannabe terrorist for their Caliphate podcast.
danny recommended:Dec 20th, 2020
Good job of taking accountability when you make a mistake 👍🏾. I feel sorry for Rukmini, her personality really came across in this podcast, and I really came to like it. Hopefully we still see a next chapter from her reporting career.
An Examination of 'Caliphate'
by Caliphate
The secret to obtaining your dream job? Learn to love what you do, don't just do what you love.
After 43-years, he was convicted of one of Australia's most vicious murders, but there may have been more victims.
Relive the traumatizing experience of Hawaii's false ballistic missile threat.
Pinterest swept the nation, but this women-centric platform is under scrutiny for gender discrimination.
Will a country-wide stipend address the US' inequality gap?
Laughter is the best medicine, and this playlist can help you get a healthy dose.
Typhoid fever can make you poop a lot...and also kill you.
A daughter recalls her mother's struggle with addiction, leading up to the merciless beating that left her dead.
✨ Podcast Partner Spotlight: Scary Time (Sponsored)
Lock your doors, check under the bed, and turn on a night light because it's time for the scariest stories, history, and conversations ever heard. Each episode is delivered by a different independent podcast creator.
👉 Episode Highlight: Diving deep into one of the scariest legends, The Black Eyed Children. With multiple terrifying encounters, dive into the lore and legend behind them.