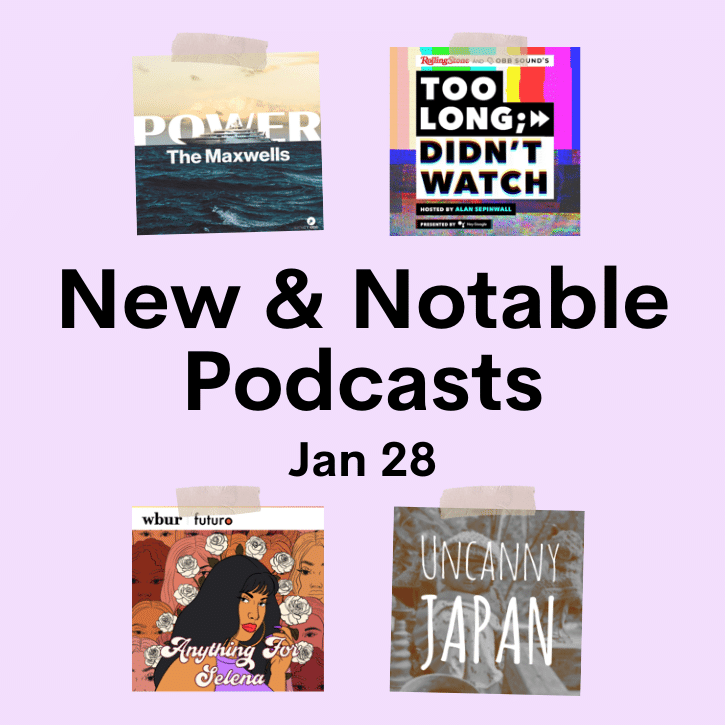 Blog
The Top Podcasts to Listen to Right Now (January 2021)
Curated by:
mm
We're excited to share with you our second edition of New & Notable — a new newsletter concept we're testing out. In case you missed it, here's the idea: we'll share new and noteworthy podcasts everyone is talking about (or should be), and an indie podcast that deserves recognition.
To try it out, we've put together our second pilot version below. Take a look and tell us what you think by filling out our feedback survey below. We hope you like it!
Want to skip straight to the goodies? Here's a handy playlist of the new and notable podcasts right now:
Buzz-worthy podcasts that were recently released and are worth a listen.
Many are familiar with Ghislaine Maxwell, the wealthy socialite who allegedly recruited girls for sex offender Jeffrey Epstein. However given her high society status, her involvement in his crimes remains perplexing. In this series the dysfunction and mystery behind the Maxwell family is uncovered, with emphasis on power-hungry media tycoon Robert Maxwell, Ghislaine's father.
For many, Selena Quintanilla-Pérez is a cultural icon. The award winning singer-songwriter's perseverance and tenacity proved that she wasn't afraid to be herself, both as an American and a Mexican. Now, host Maria Garcia looks at the impact Selena's legacy has had on the Latino community, as a role model and a visionary.
Hosted by Rolling Stone's Chief TV Critic, Alan Sepinwall, Too Long Didn't Watch is on a mission to see if you *actually* need to watch a full TV series. Every week, Alan watches the pilot and finale of a groundbreaking tv series with a celebrity guest who has never seen it. The guest must then give their best guess on what happened in-between. From Game of Thrones to Dexter, hear the hilarious, wacky, and occasionally correct predictions.
Can't get enough of true crime? From small-town America to bustling cities, The Daily Crime has swept the U.S. to find some of the most bizarre cases to share, five days a week. Delivered in short, digestible episodes, you'll even receive first-hand insight from reporters who have followed the case.
Indie producers create some of the most innovative and interesting podcasts. Here's one we love:
Uncanny Japan - Folklore and Culture
Uncanny Japan is hosted by Thersa Matsuura, a US expat who has lived more than half her life in Japan. Through the years, Thersa has collected intriguing tidbits about Japanese culture, including superstitions, folktales, and other little-known oddities. In this podcast she shares some of her most exciting findings.
Now that you know the new and notable podcasts right now, it's time to give them all a listen! We've placed them all in a playlist that you can save and listen to later:
👉 Know of a great podcast that you'd love to see featured, or have one of your own? Tell us by filling out the form below.