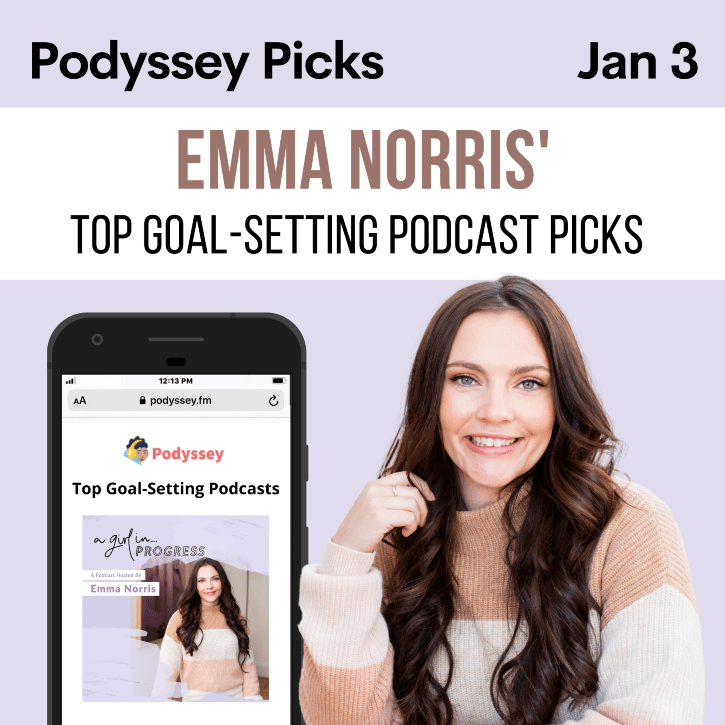 Podyssey Picks
Podyssey Picks (Jan 3): Top Community Recommendations
Curated by:
kerj
Happy New Year! Here's this week's roundup of top podcasts and playlist recommendations from the Podyssey community. Highlights include the Top Podcast Episodes of 2020 on Podyssey, and a special takeover by our guest editor Emma Norris, host of A Girl in Progress podcast. Her playlist on goal-setting will help you make the most of this new year.
✨ Guest Curator - Emma Norris from A Girl in Progress (Sponsored) ✨
Kick your 2021 on the right note, with these podcasts on goal-setting and productivity. No matter what your goals are for the new year, imperfect action coach, author and host of the A Girl In Progress podcast Emma's top recommendations will leave you inspired.
🙌 Featured Episode from A Girl in Progress
Do you ever find yourself catastrophizing situations? Are you always either 'on the bandwagon?' or off? In this episode Emma talks you through how to overcome all-or-nothing thinking.
A philosophy professor becomes a school crossing guard to find the existential meanings of life.
switters recommended:Dec 27th, 2020
Couldn't agree more with the quote cited in the @cbcpodcasts recommendation. This is the heart of podcasting to me. An original and quirky story compellingly told that leads you somewhere you'd never expect. I am thoroughly looking forward to getting into the rest of the series.
1: Crossing Guard
by Constellation Prize
Humanity's hope for immortality is running for his life. Join the hunt.
(Sponsored by @foreverhasfallen podcast)
Entrepreneur Tim Ferriss reveals how he became a multi-millionaire and how he learns anything.
Want to be the next Tim Ferriss? Get your creative juices flowing with this playlist on entrepreneurship.
Does viral outrage actually lead to change?
pwitham recommended:Dec 22nd, 2020
This episode has a lot to think about, my biggest take away was something I already knew. Social Media is a dangerous out of context place that has in many ways create a lot of the situations we have to deal with to this very day.
Screaming into a Void
by Hidden Brain
Science shows friendships help you live longer and be more successful.
yesitsamerica recommended:Dec 11th, 2020
"The chemistry of friendship" Oldie but good. Part of our "surviving journey" in human history has been deeply connected to our ability to build friendships Specially during times of quarantine: the importance of bonding, friendship, building significant relationships... Super interesting co...Show More
The Science of Friendship
by Call Your Girlfriend
When the DC Sniper shot and murdered 15 people, wide-spread panic ensued.
Revisit the best movies, music and TV shows in 2020.
The shooting of a woman involves Dr. Phil, her ex-husband and his new wife.
Delve into the story behind England's Sutton Hoo, an Anglo-Saxon burial site that contained a 27 meter long ship.
A foul-smelling molecule may be responsible for life on Venus.
Four women drunkenly analyze a true-crime case: A woman fell in love with a prisoner and helped him escape.
Finally, round-out your listening with The Top 25 Podcast Episodes of 2020 below 👇, all recommended by Podyssey's community of podcast superfans!